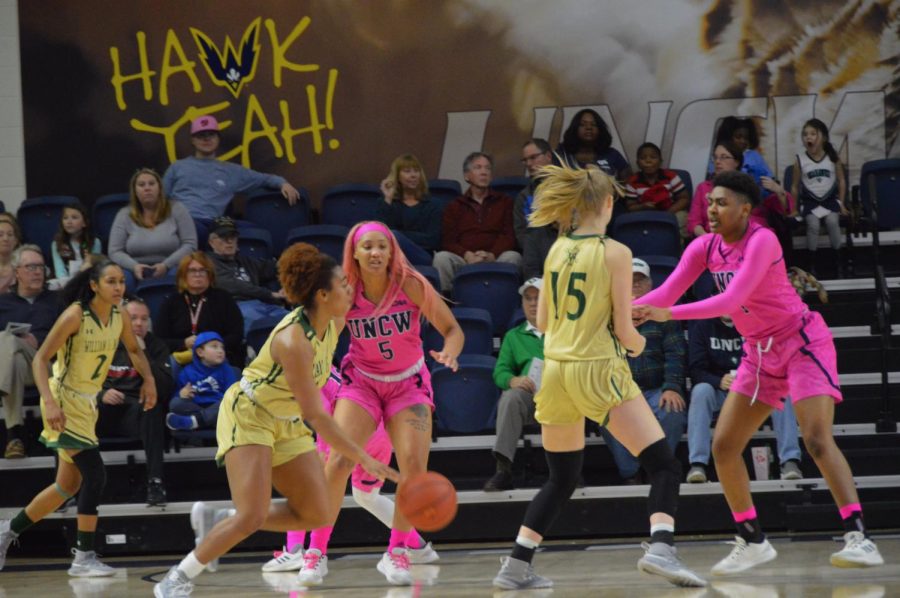 Brandon Sans/The Seahawk
It was not at all pretty or smooth to see unfold. It required some free throws, lots of defense and even more grit down the stretch. UNC Wilmington women's basketball provided all of that as its undefeated home record improved to 12-0 with a 66-58 victory over William & Mary at Trask Coliseum on Sunday afternoon.
The Seahawks (15-7, 8-3 CAA) got big nights from several key contributors as they had four players in double-figures for all four games of their two-week homestand. Junior guard Lacey Suggs paced UNCW with 18 points on 5-of-10 shooting and barely missed out on a double-double with eight rebounds.
GiGi Smith (15 points and 11 rebounds) and Chinyere Bell (10 points, 11 boards) both notched double-doubles, and Ahyiona Vason added 13 points and five assists for a team that has made "The Trask" – as referred to by second-year head coach Karen Barefoot – perhaps the toughest arena to play in the CAA.
The Tribe (11-11, 4-7 CAA) were led by freshman guard Eva Hodgson's 24 points on 9-of-15 shooting, including 4-of-6 from three-point range. Senior guard Bianca Boggs had a double-double of 16 points and 10 boards while junior forward Victoria Reynolds added 10 points before fouling out.
Free throws and defense the hallmarks
In a game where both teams shot 37 percent from the field, and particularly frigid in the fourth quarter, it was the Seahawks' free throws and defense that made the crucial difference down the stretch.
W&M rallied from an 11-point deficit to take a slim 58-56 lead midway through the fourth. After that, it would never score again, going scoreless for the final six and a half minutes.
"I was so proud of the way that we were composed," said Barefoot postgame. "It wasn't pretty at times, but we were tough enough to get through and find ways to get stops and attack the basket."
While the Seahawks could at least half-thank free throws for helping them reclaim the lead and then winning this game, they would have put the game to bed far earlier than they actually did had they gone better than 8-16 from the line in the final period. Split after split at the line left some with the feeling that they made this result more of a grind than it really needed to be.
Barefoot, however, chose not to focus on the fourth quarter free throws and instead said it was all a part of the competitiveness of conference play.
"I just think it was one of those games where you're in conference time," she said. "I think everybody wants to win and it's very competitive. People have to make plays, and I think it's just how you keep your team composed."
Smith echoed Barefoot's sentiments postgame.
"No, I'm not really worried about our free throw percentage," said redshirt junior guard Smith, who also acknowledged the Seahawks going 16-26 from the line overall. "I think the biggest thing for us is that we hit them when it mattered and I think that was really huge."
The victory was the most important part at the end of the day, and the game was won through a strong fourth-quarter defensive effort that held the Tribe on that long scoring drought and left visiting coach Ed Swanson in a heap of frustration as his team slumped to their fourth straight loss.
Vason comes up clutch
With leading scorer Shrita Parker out due to knee soreness, Vason stepped up to take over the point guard duties in her absence. The junior's aggressive attacks to the rim led to six drawn fouls and nine trips to the free throw line, of which she converted six attempts.
"I just had to play even harder," Vason said of her performance down the stretch. "Usually I don't have to because I've got Shrita and Gianna. But today I had to actually score."
Vason also made the critical defensive play that won the Seahawks the game in crunch time. Down 62-58 with just 23 seconds remaining, the Tribe was looking to make a play to make it a one-possession game and put some real pressure on UNCW. However, Vason intercepted a pass from Hodgson, killed 11 seconds off the clock, and passed it to Suggs who sunk both free throws to ice the game for the Seahawks.
"I remember Coach telling us to put pressure on the ball because they're going to get it to Boggs," said Vason. "So I just knew that [Hodgson] was going to pass it, so I just went for it."
Up next for UNCW…
…five of its final seven games are away from home, starting with a trip to fourth-placed Towson on Friday, Feb. 15. That game is set for a 7 p.m. tipoff. UNCW will be looking for a season sweep of the Tigers in that one.