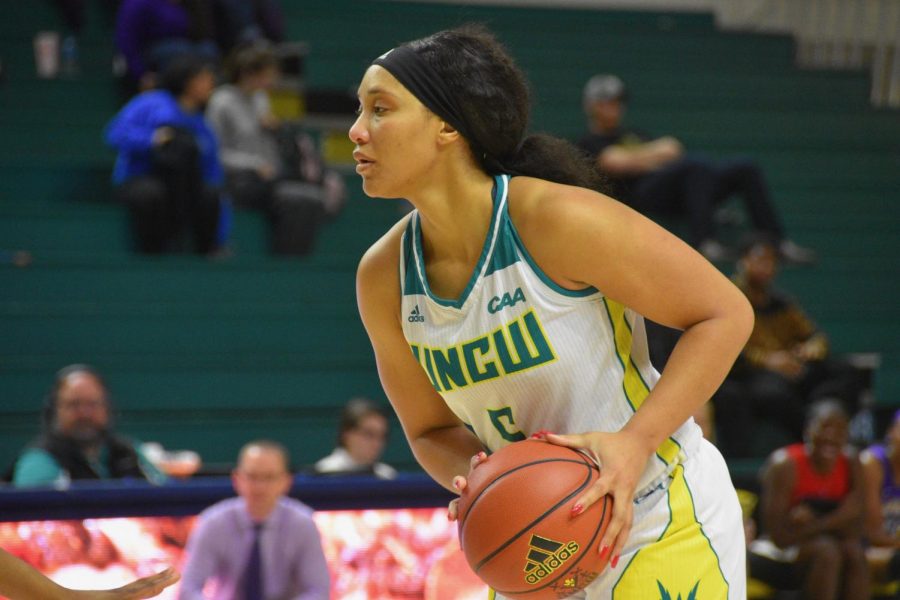 Noah Powers/The Seahawk
In light of its recent success, UNC Wilmington traveled to Delaware with high hopes. Prior to this afternoon's matchup, the Seahawks had won six of their last seven contests — two of which were against conference leaders — and the 'Hawks hoped to carry that confidence into this weekend's road trip.
Foul trouble and a shaky second half for the Seahawks (11-6, 4-2 Colonial Athletic Association) gave UD ample opportunity to run up the score. The Blue Hens (7-11, 2-4 CAA) never trailed in the final three quarters of play, tying only once going into halftime.
Delaware outscored the 'Hawks 37-25 in the second half culminating in a 65-53 victory for the Hens.
Foul trouble
With three starters in foul trouble in Lacey Suggs (4), GiGi Smith (4) and Chinyere Bell (3), the Seahawks had to play careful defense. This meant giving up 34 points in the paint including 32 layups as well as 14 second-chance points.
The 'Hawks also left a plethora of points at the free throw line. UNCW shot a season-low 40 percent from the charity stripe, going 6-for-15 and leaving nine points at the line.
Ahyiona Vason was the only Seahawk to shoot 100 percent on foul shots going 2-for-2.
Smith shows out
Smith was one of two Seahawks to score in double digits today and was a big factor in keeping UNCW competitive throughout. The redshirt junior had nearly half of the 'Hawks points, knocking down 20 before game's end.
Her performance coupled with 10 points from Shrita Parker accounted for over 56 percent of the team's scoring efforts.
Smith also contributed nine rebounds, leading the Hawks' on the defensive glass and nearly sealing a double-double for herself.
The Virginia-native averages 14.2 points and just over five rebounds per game, so her performance today blew those numbers out of the water.
Fighting the turnover battle
One sloppy pass turned to another as the Seahawks hit well over their average turnover mark (15.6) giving up the ball 21 times. For UNCW, ball security is a must at this juncture of the season.
Off those turnovers, the Blue Hens put 18 on the scoreboard — a game-changing statistic for the 'Hawks.
Up next
UNCW heads to Philadelphia for a Sunday rendezvous with Drexel (11-5, 3-2 CAA). The Dragons currently trail the Seahawks by half-a-game in the conference standings and will have an opportunity to tie for third tonight against College of Charleston.
If Drexel can pull a win out this evening, Sunday's matchup will be a lot more interesting as we watch the two teams duke it out for a spot in the top-three.
That weekend-closer is set for a 2 p.m. tipoff.