Seahawks use depth to soar past Belmont Abbey in season opener
Barefoot: "The team buys into 'team first."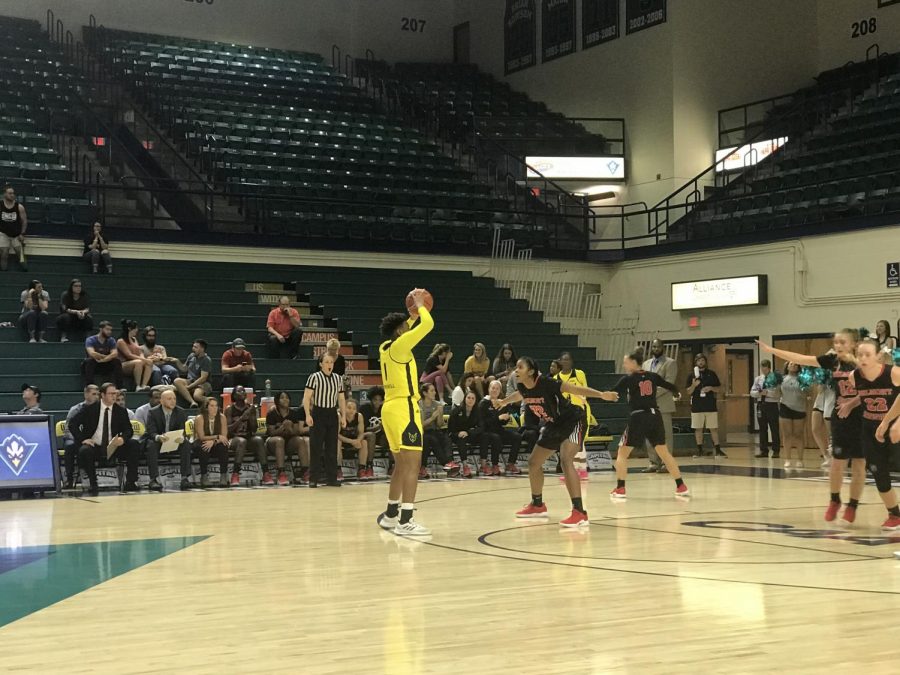 Lanre Badmus, Staff Writer
November 7, 2018
The UNC Wilmington women's basketball team used big nights from GiGi Smith, Paige Powell and Lacey Suggs to earn a 74-58 opening night victory over Belmont Abbey at Trask Coliseum on Tuesday night.
The win marked a successful start to year two of the Karen Barefoot era.
Depth makes the difference
Four UNCW players scored in double figures. Smith, a redshirt junior guard, led all scorers with a career-high 27 points. The former Old Dominion standout – who followed Barefoot from Norfolk to the Port City a year ago – was one of five debuting Seahawks on the night. Sophomore forward Powell notched her first career double-double with 10 points and 13 rebounds (9 offensive boards), and junior guard Suggs put up 16 points on 7-11 shooting from the field with four boards. Redshirt senior guard Shrita Parker, one of two transfers from Rutgers, added 10 points, five assists and four boards.
"One thing I like about our team is we have depth," Barefoot said in a press conference postgame. "I didn't call any timeouts. I used my bench to go out there and help them lead, find ways, find answers, and it worked. It just shows me that they're a team that really buys into 'team first'.
Second-half adjustments
The teams were separated by only three points at the half, with a tough-shooting first half (37 percent) combined with foul trouble keeping the Division II Crusaders tight in the contest. However, the Seahawks became more aggressive on both ends in the second half and eventually led by as many as 17 in the fourth quarter.
Powell gave thanks to her teammates and coaches for helping her reach her career night on game one of the season.
"I feel great," said Powell of her double-double postgame. "It was because of my teammates, basically. Them just cheering me on…coach [Tina] Martin stays on me, as she's my position coach. She's always like, 'crash the boards, offensive rebounds."
Powell talked about also having to adjust her game personally as Belmont Abbey came out very aggressively in the first two quarters.
"They came out and they basically punched us in the face," she said. "They were being more aggressive, they were getting more boards, they were pushing me around…so [I was] just pushing them back."
Barefoot did not hesitate to state the importance of Powell's performance in the postgame presser.
"I can't say enough about Paige Powell, what she did tonight," Barefoot said. "She really gave us that rebounding edge and gave us that passion. This is her coming-out game, as she's never really played a lot of minutes…for her it was a matter of time and just gaining that confidence."
Smith did not realize how many points she scored until after the game. She admitted that opening-night jitters may have gotten to her in the first half but credited her teammates for encouraging a next-play mindset.
"Honestly, I was zoned out and didn't know that was how much I had," said Smith. "My teammates really did a good job finding me, coach did a good job calling plays…I apologized to my team first half because I took a lot of bad shots, but I got it back in the second half because my teammates reinforced every time, 'you're good, next play, next play."
Suggs mentioned how the team's closeness and chemistry have grown stronger of late and how it was a factor in their victory.
"I think the thing about this team is that we're close," said Suggs. "We know each other, we know our game. We have really good chemistry and that's going to bode really well going forward."
Belmont Abbey, for whom the game was an exhibition tune-up, were paced by 17 points from sophomore guard Irelynn Davisson. Sophomore forward Allie Downing had 15 points with five rebounds while senior forward Manuela Fungate added 12 points and six boards.
Up next
UNCW's next game will be a trip to Athens, Ohio to visit the Ohio Bobcats on Sunday before returning home to play host to Presbyterian on Wednesday, Nov. 14 at 11:30 a.m. and Grand Canyon on Saturday, Nov. 17 at 1 p.m.