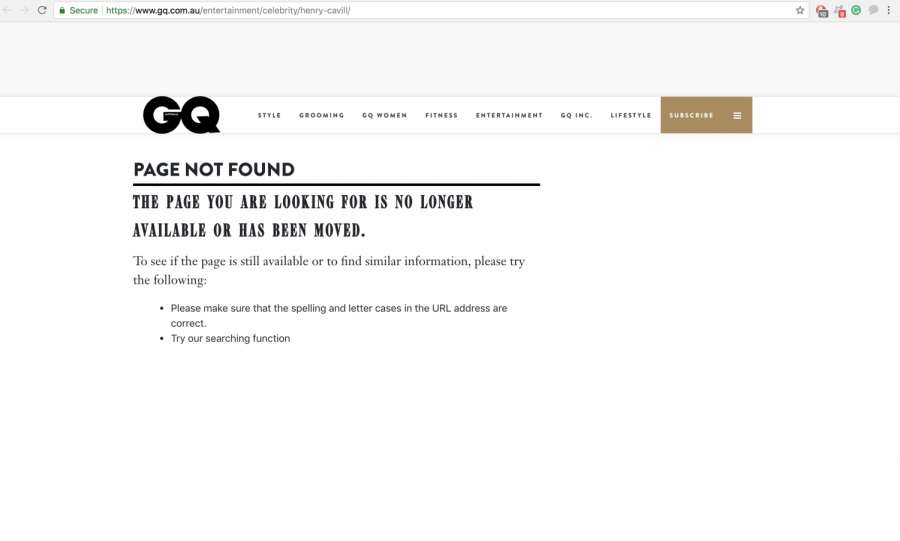 Editor's Note: Veronica Wernicke is a sophomore at UNCW majoring in Communication Studies and is the Opinion Editor for The Seahawk. The opinions expressed in this article are solely those of the author. Veronica Wernicke may be found on Twitter @itsveronica98. All suggestions and inquiries may be sent via email to [email protected]
It looks like Superman is not the perfect guy. At least the actor who currently portrays him, 35-year-old Henry Cavill, is not.
Unlike some of his male Hollywood counterparts, Cavill has not been added to the list of disgusting men and women accused of sexual harassment or misconduct. Thank goodness, because I like him. Although, myself and many others found ourselves questioning Superman's character after his recent comments in GQ Australia.
In the article — which has since been taken down — Cavill admitted his fear of dating in the wake of the #MeToo movement, citing his old-fashioned preference of chasing and wooing a woman. Because of his flirting style, Cavill now finds it hard to continue doing that.
"[Because] there are certain rules in place. Because then it's like, well I don't want to go up and talk to her, because I'm going to be called a rapist or something," said Cavill in the article.
This line of thought is quite absurd.
Just the idea that he feels this way brings up the question of his previous flirting and dating behavior. Why is he nervous about flirting so suddenly? I have not read anything about him being accused of sexual harassment or misconduct, so does he really have anything to be worried about?
The solution to this "problem" Cavill is facing is simple: don't come off as a rapist when flirting with a woman and you will be fine. There are plenty of ways where you can "woo" a woman and not be called a rapist. One way is to not rape them.
In 2018, I'm surprised that people can't tell the difference between appropriate flirting and harassment or assault.
Another logical solution would be to make sure the woman you are flirting with is comfortable. Just ask. It's not that hard.
This fear takes away from the #MeToo movement and instead shifts the focus on men as being "victims" — again, ridiculous. While there are women who do rape and sexually harass men — which must be taken just as seriously — these men who have made similar comments to Cavill's have not been raped and thus are not victims in this movement.
Since the backlash towards his comments, Cavill has issued an apology statement in The Hollywood Reporter.
"Insensitivity was absolutely not my intention. In light of this, I would just like to clarify and confirm to all that I have always and will continue to hold women in the highest regard, no matter the type of relationship, whether it be friendship, professional, or a significant other," Cavill said. "Never would I intend to disrespect in any way, shape, or form. This experience has taught me a valuable lesson as to the context and the nuance of editorial liberties. I look forward to clarifying my position in the future toward a subject that is so vitally important and in which I wholeheartedly support."
Sure, blame it on a misunderstanding and "the nuance of editorial liberties."
That is the easy way out. The, "Oh shoot, I screwed up. How I can get this over with?" way out.
In his apology statement, Cavill should have clarified his comments if there was an actual misunderstanding. If he really does hold women in the highest regard, then he would not have said what he did.
Whether Cavill really meant what he said or not, he should have known better.
Despite absurd comments like his, we need to continue to stand behind the #MeToo movement and not let things like this delegitimize it. Instead, we can continue to help add volume to the real stories.