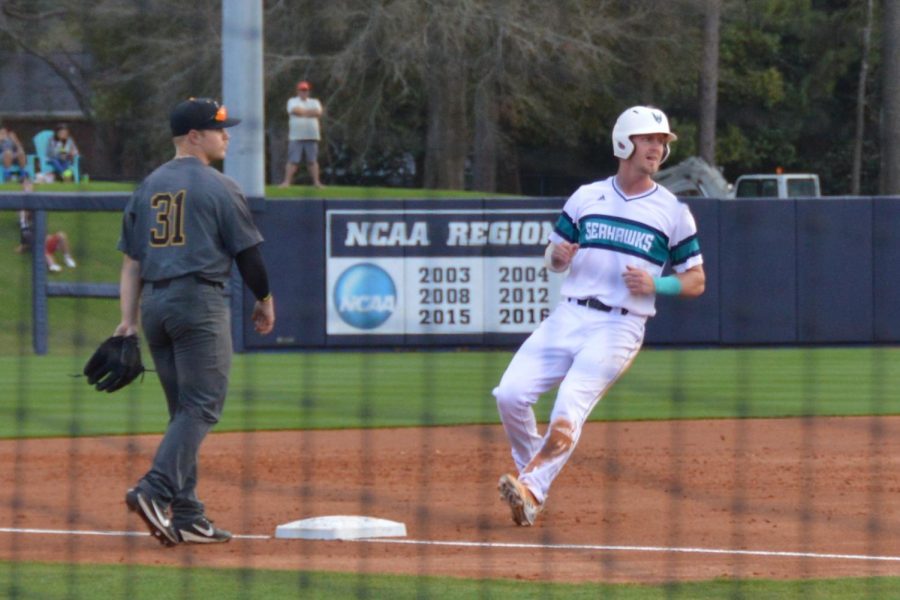 Noah Powers/The Seahawk
UNC Wilmington fell to Appalachian State, 6-2, on Saturday afternoon. This loss moves the Seahawks to 4-2 on the season and ends their three-game winning streak.
The offensive struggles continued for the Seahawks, as App. State pitchers registered 13 strikeouts. Colin Schmid, who started the game for the Mountaineers, had 11 strikeouts while Luke Watts, who took over for Schmid in the eighth inning, had the remaining two.
"A lot of us are just chasing pitches out of the zone giving the guy on the mound a little too much," said catcher David Sheaffer. "It's just a little mental adjustment and we have a bunch of tough guys, so I think we will be ok once we work it out."
Sheaffer did have some success for the Seahawks at the plate today, collecting an RBI double in the fourth inning and a seventh-inning home run, giving UNCW its only two runs on the day.
Zarion Sharpe (0-2) made his second start of the season following an opening weekend loss to Butler. Sharpe pitched four innings with two strikeouts, two walks and three hits allowed over a total of 61 pitches.
"Zarion pitched okay," said UNCW coach Mark Scalf. "I don't think his command was as good as it has been at times … but, overall, a decent outing for him and something for him to build on."
In relief, the Seahawks saw Justin Walke, Nick Bruno and Gage Herring take the mound. It was Bruno's first collegiate appearance after missing last season with arm surgery.
"It's exciting but it obviously wasn't the way I wanted it to go," said Bruno. "It's frustrating. You want to go out there and do your job when you are called upon."
App. State's offense was led by Kendall McGowan (3 for 5 on the afternoon), C.J. Brown (home run) and Alex Leshock, who registered his first career college hit and an RBI triple in the eighth inning that pushed the Mountaineer lead to 5-2.
Stat of the Day: Ryan Jeffers' on-base streak ended at 28 games after going 0-for-4 on the afternoon.
Quote of the Afternoon: "Congratulations to them – they played well today, and we get a chance to come back tomorrow with an opportunity to win the series." – Mark Scalf