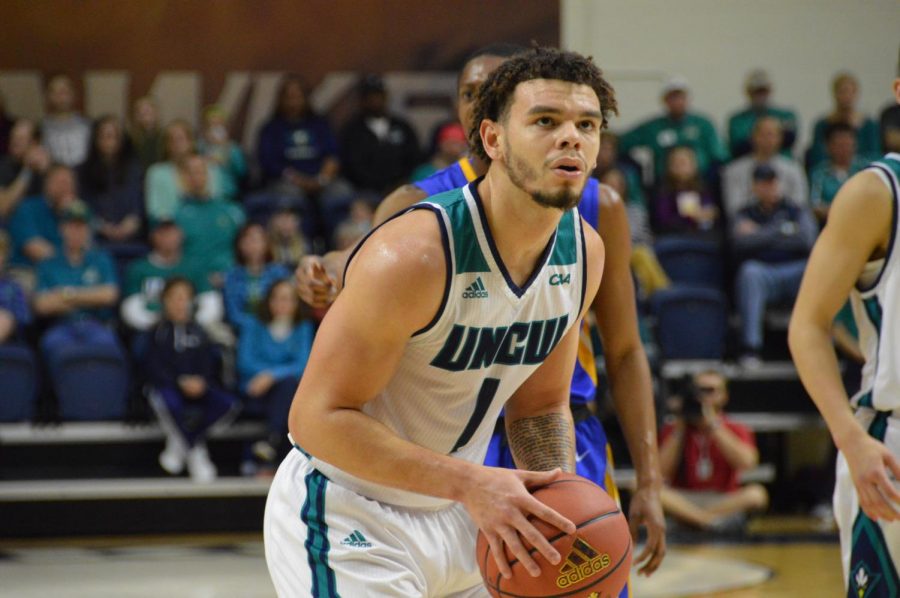 Noah Powers/The Seahawk
Wilmington skies were clear Thursday evening, but UNC Wilmington managed to make it rain for much of the contest in its 87-63 victory over Elon (14-13, 6-8 CAA).
With four players scoring in double digits, and a team total of 53 rebounds, the Seahawks were able to bounce back after their one-point loss to James Madison two nights ago. It was a quick but solid turnaround for the Seahawks, who appeared to be as electric as ever.
UNCW (9-18, 6-9) managed to sink 11 three-pointers in the first half alone and finished the game with a 45.3 field goal percentage, as well as a 3-point percentage of 50.
Among those four players scoring in double digits was, not surprisingly, Devontae Cacok, who managed to rack up his 19th double-double of the season, with 17 points and 21 rebounds.
The leading rebounder in the nation was also on the verge of his second 20-20 double-double of the season. The first came a few weeks ago in UNCW's first meeting with James Madison, where Cacok managed a staggering 26 points and 24 rebounds.
"I try not to think about the numbers," said Cacok. "Just do as much as I can, no matter what it may be."
Cacok passed a program milestone in the win, surpassing Brian Rowsom's school record for rebound in a season. His season total now stands at 355.
While it may have seemed that the Seahawks were playing to perfection tonight, UNCW head coach C.B. McGrath always sees room for improvement.
Unforced turnovers were a point of interest for McGrath following Thursday's game.
"Those all happen when they're just trying to do too much," said McGrath. "They thought it was pretty easy at times, and when it's easy you lose that little edge."
The Seahawks prepare for their final home game of the season, and their third contest in five days, as UNCW takes on College of Charleston (21-6, 12-3) on Saturday, Feb. 17, for senior night.