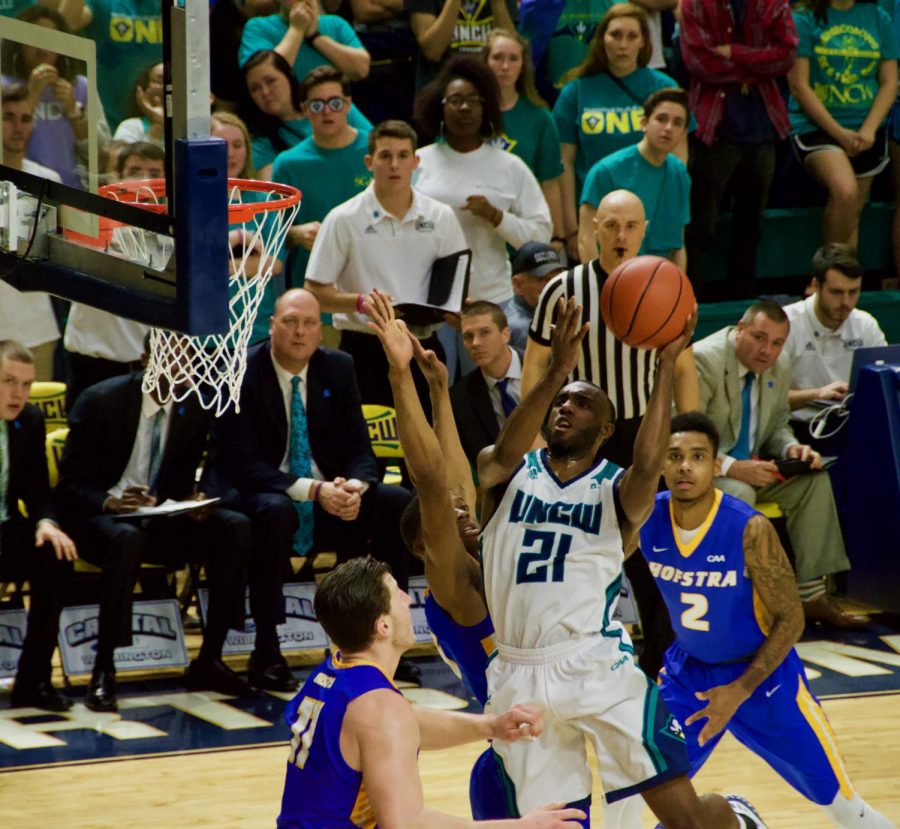 Noah Powers/The Seahawk
As far as C.B. McGrath was concerned, Saturday's 90-70 win over Hofstra was the best his UNC Wilmington team has played this season.
The Seahawks have had their fair share of struggles in McGrath's first year at the helm, but have never been more than a few steps away from being one of the CAA's more competitive programs.
The first-year head coach had spoken repeatedly of his desire for the Seahawks to put whole games together on both sides of the ball. Saturday was the first instance of that this season.
"I think Ty Taylor set the tone early on (Justin) Wright-Foreman," McGrath said. "I think, overall, it was offensively and defensively one of our best performances of the year."
The high caliber of UNCW's performance came almost as a surprise, seeing as how the Pride dealt their CAA rival a 20-point loss just two weeks ago. Being up against the nation's fourth-leading scorer in Wright-Foreman didn't make things easy defensively, but Taylor (16 points, nine rebounds) was more than up for the challenge.
"I just tried to put as much pressure on Wright-Foreman as possible — try to make him uncomfortable," he said. "He's obviously a great scorer averaging 25 a game, but my job was to make him uncomfortable and I think I did pretty well at that."
Taylor kept Wright-Foreman to a season low of 15 points.
"You can't take any breaks. On certain teams, there a good guys (with who) you can take mental breaks and be okay, but with him, almost every shot looks like it's going in, so he just keeps you on your toes."
The Seahawks received sizeable contributions from their role players — freshman Jay Estime' finished with 12 points after starting the game due to Cacok receiving a technical foul last week against Northeastern. Marcus Bryan (10 points, nine rebounds) came just one board short of a double-double.
UNCW's total team effort was fed by a frenzied sellout crowd inside Trask Coliseum that reached noise levels not heard since the Seahawks were running roughshod over the CAA in the last two seasons.
Getting a taste of that electric atmosphere did not go unnoticed by McGrath.
"It was great having a sellout in Trask and everybody rearing to go," he said. "We gave them opportunities to cheer. You don't want to go out and lay an egg when everybody's ready to cheer for you … Hofstra's a really good team — they can really score the basketball. Our guys stepped up and obviously the atmosphere has helped all year in Trask."
The biggest test UNCW has faced this year may be just over the horizon. After Thursday's game at James Madison was rescheduled to this Tuesday, the Seahawks will end up playing four games in one week.
With five total games remaining in the regular season, UNCW is still battling for position in next month's CAA tournament in Charleston. The Seahawks are currently tied for seventh with Drexel and, ideally, want to finish in the top six spots in order to avoid a four-game path to the CAA championship.
Sports Editor Noah Thomas can be found on Twitter @NoahILM. Any tips or suggestions should be forwarded via email to uncwseahawksports@gmail.com. For video updates from The Seahawk, subscribe to our YouTube channel.