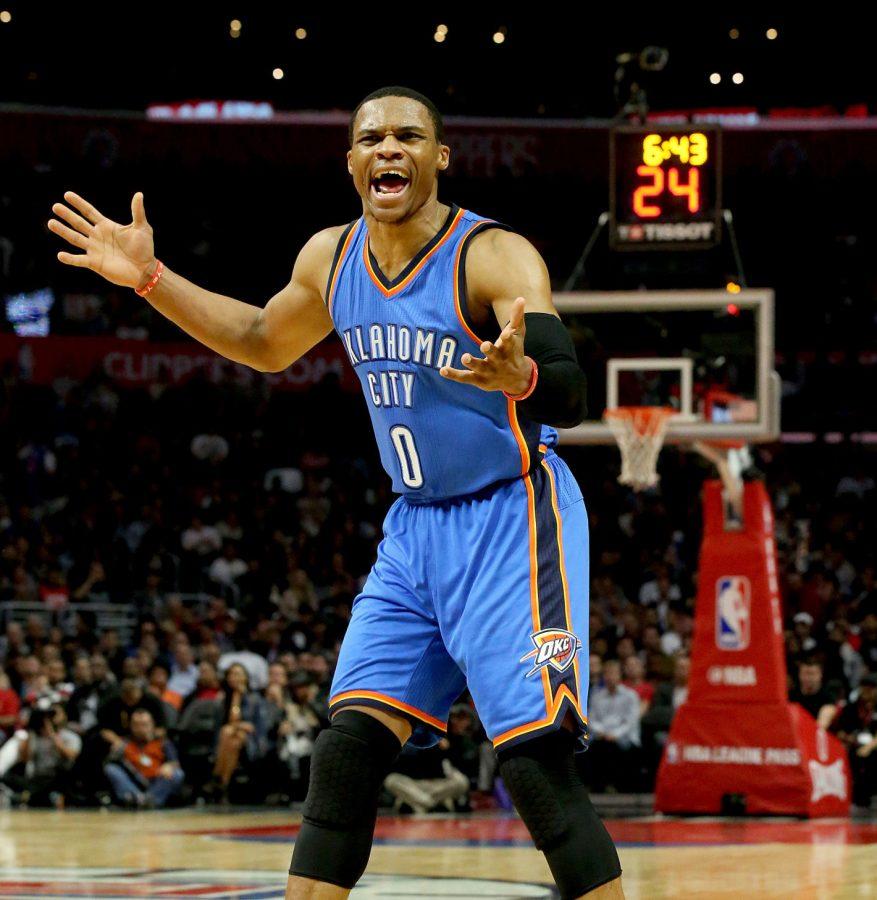 When Kevin Durant announced he was leaving the Oklahoma City Thunder over the summer, many eyes turned to his former partner Russell Westbrook in anticipation of the revenge tour many expected to follow.
"Russell is going to do what Russell does, and he does it at a very high level," Thunder coach Billy Donovan said.
Westbrook has always been a controversial figure for his all-out style of play. Though this has allowed Westbrook to develop into the superstar he is today, it has also come at a cost in the turnover department. He is currently second in the NBA averaging 5.6 turnovers a game.
Despite the high total in the turnover department, Westbrook has averaged a triple-double later in the season than any other NBA player since Oscar Robertson in 1963-64.
As of Dec. 7, Westbrook is averaging 31.0 points, 11.3 assists, and 10.9 rebounds per game this season. In doing so he has lead a Thunder roster devoid of another star talent in light of Durant's departure.
That's not to say the Thunder lack any talent. Young big men Steven Adams, Enes Kanter, and Domantas Sabonis along with Westbrook have contributed to Oklahoma City pulling in the third most rebounds per game in the NBA. The Thunder register 46.1 boards per night.
Undoubtedly, Westbrook is the heart and soul of this team. He is currently fifth in the NBA with a 5.96 Real-Plus minus.
Though Durant's departure removed Oklahoma City from the championship equation in the eyes of many, it left many wondering if Westbrook is capable of becoming the second person to average a triple-double in a season. The last was Robertson in 1961-62.
Cleveland Cavaliers forward LeBron James, often considered the best player in the world, is in the camp that believes Westbrook can make history.
"Westbrook can do it," James said. "He's capable of doing it. He's showing it. He's like the Energizer Bunny, man. He just doesn't get tired. He doesn't get tired, and when you have that passion for the game, too, as well, it's very doable."
During that 1961-62 season, Robertson averaged 30.8 points, 11.4 assists, and 12.5 rebounds per game. Of note, Robertson averaged that line in 44 minutes player per game while Westbrook has currently averaged 35 minutes.
As for his part, Westbrook, who tied the NBA record for most triple-doubles in a season last year with 18, is not directly concerned with averaging a triple-double over the course of the year.
"I just play, honestly," said Westbrook. "I don't want to get in a conversation of if I'm going to do it every night. I just go out and compete at a high level every night, like I've been doing since I've been in the NBA."
Intentional or not, there is little doubt Westbrook's historic pace has placed him at the forefront of the MVP conversation this year. Since 1985, an MVP has only come from a top-three seed in the playoffs. The Thunder are currently the sixth seed in the Western Conference.
Westbrook averaged a triple-double over the course of six games, all Thunder wins. It is the longest streak of triple-doubles since Michael Jordan had five in a row in 1989.