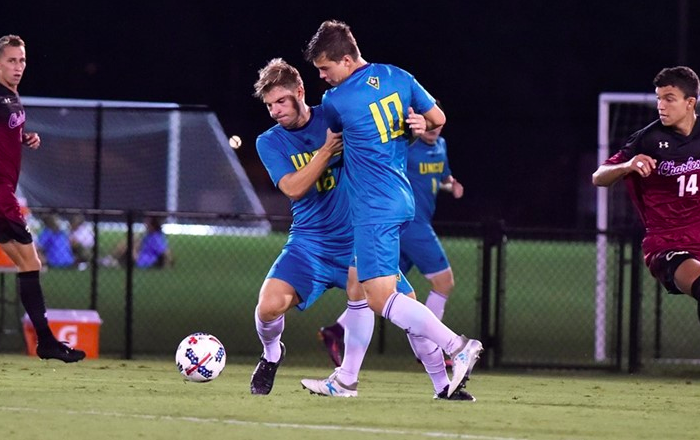 Joe Browning/UNCW Athletic Communications
UNC Wilmington men's soccer suffered its first conference loss of the season Wednesday night after CAA rival College of Charleston rallied for a 2-1 win on the road.
The No. 15-ranked Seahawks controlled most of the first half. UNCW (9-3, 4-1 CAA) took a 1-0 lead halfway through the first half thanks to Julio Moncada's third goal of the season, on which the senior captain scored off a rebound from Phillip Goodrum's shot that hit the post.
But Charleston (5-5-2, 2-1-2) did not back down and was able to play its game in the second half. The Cougars tied the game in the 60th minute thanks to a Scotty Frantz goal assisted by Eli Dent.
The Cougars took the lead minutes later, this time on Dent's goal that was set up by a crossing pass from Cesar Murillo. It was Dent's third goal of the season.
The Seahawks had several chances late in the game but were unable to net the equalizer.
"We played more to their game than our own game," said UNCW coach Aiden Heaney. "We need to do a better job of playing more patiently and a little bit more indirectly. If we do that I think we'll cause teams more problems than we did tonight."
Dent said his team's focus was to play aggressively with the Seahawks and interrupt their flow.
"We knew a lot of teams laid off them and gave them space and allowed them to get into a rhythm," said Dent, who was the star of the game for the Cougars. "We knew coming out in the second half we had to push hard and press them and force problems."
Dent called the victory a "really big" win for the Cougars and he hopes a win over a national top-15 team like UNCW can give them momentum going forward.
The Seahawks will look to get back on track this Saturday when they travel to James Madison to take on the Dukes.
Contributing Writer Tanner Lindsay can be found on Twitter @tannerjlindsay. Any tips or suggestions should be forwarded via email to [email protected] video updates from The Seahawk, subscribe to our YouTube channel.