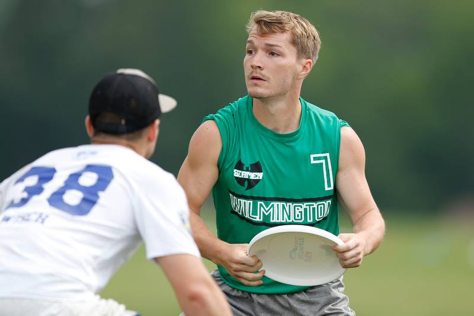 UNCW Seamen Ultimate/Facebook
J.D. Hastings, a member of the UNCW Ultimate "Seamen" team, has been selected to the USA Ultimate Under-24 national team.
In a press release, CEO of USA Ultimate Tom Crawford said Hastings is one of the best ultimate frisbee players in his age group in the country and he is proud to have him as a member of the team.
USA Ultimate, which was founded in 1979, is the national governing body for the sport of ultimate frisbee in the U.S. and is a member of the U.S. Olympic Committee.
Hastings, who has played ultimate for over six years now, said it was difficult to control his emotions when he got the invitation.
"I was ecstatic and overwhelmed," said Hastings. "I actually got the phone call while at my assistantship in campus life. We had to keep it a secret for a few days and that was very tough."
Hastings said he's thankful for the "overwhelming" support he has received.
Ultimate Club President Grayson Sanner thinks Hastings' accomplishment speaks volumes about the team.
"This is a big honor for our team," said Sanner. "It shows the type of work our team from last year and previous Seamen teams have put in to get us to where we are now. This was a big talking point from our coaches last year."
Zach Gilbert, who is one of the assistant directors of UNCW Campus Recreation responsible for leadership and facilitation of the competitive sports program, voiced similar praise when he spoke about Hastings' accomplishment.
"Our ultimate clubs are both outstanding groups with long and successful histories," said Gilbert. "The men's club having members earn this honor shows how dedicated and committed they are to being the best players on the field, and this commitment and dedication goes beyond the field, whether it's fundraisers or recruitment."
Gilbert said the department is "extremely proud" of Hastings.
Hastings' addition to the national team adds on to the history of the nationally-renowned Seamen, which won the national championship in 1992 and has made the national tournament in each of the past five years.
Hastings will travel with the national team delegation to Perth, Australia, on Jan. 7-13 to compete for a world championship.
"It's always been a dream to represent the U.S. in some type of fashion," Hastings said. "I'll be playing alongside some of the best athletes in the country. I can't begin to explain how excited I am for the experience."
Contributing Writer Tanner Lindsay can be found on Twitter @tannerjlindsay. Any tips or suggestions should be forwarded via email to uncwseahawksports@gmail.con.For video updates from The Seahawk, subscribe to our YouTube channel.