UNCW welcomes C.B. McGrath in opening press conference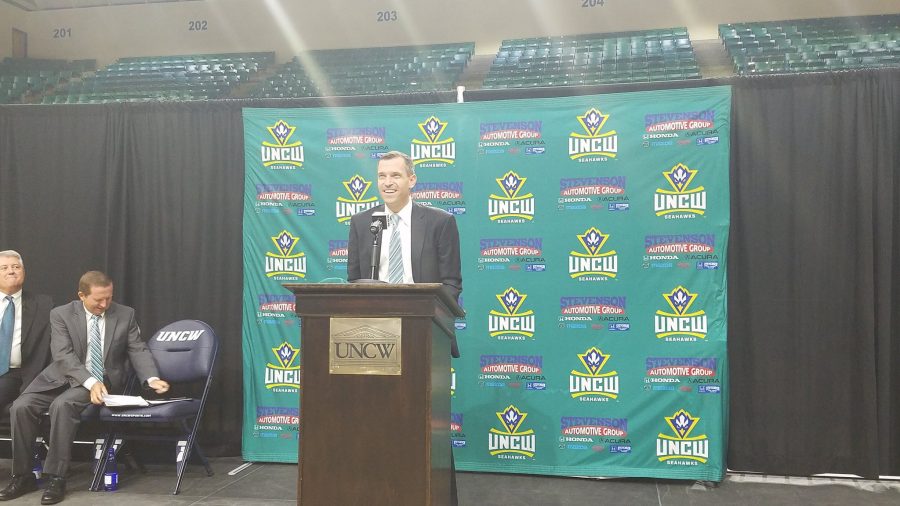 Noah Thomas, Sports Editor
April 6, 2017
UNC Wilmington formally welcomed C.B. McGrath to Trask Coliseum on Thursday as the eleventh head men's basketball coach in program history. The event marked the conclusion of a part of McGrath's life and the beginning of another — a day for which the 41-year-old head coach said he had been preparing for more than two decades.
The move effectively brings McGrath to Wilmington from Chapel Hill, where he spent the previous 14 seasons as an assistant coach under Roy Williams. He won three national championships as a Tar Heel, the final of which came this past Monday when North Carolina defeated Gonzaga.
"We wanted to find someone who could not only recruit, develop players and diagram the X's and O's, but also engage our players, our staff… Seahawk alumni worldwide and certainly the Wilmington community," said UNCW Athletic Director Jimmy Bass. "I am very confident that we have found that individual."
McGrath greeted the large crowd in Trask Coliseum with a smile. He didn't beat around the bush in letting the audience know how excited he was to be there.
The UNCW job is one McGrath has wanted for many years. His desire to be a Seahawk can be traced back to his early years while playing and coaching in Kansas. His sister-in-law lived in Wilmington at the time. When McGrath and his wife visited, they liked what they saw.
"We visited, went to the beach, and sorta liked it — a little bit better than Kansas," he said, drawing laughs from the crowd. "We moved to Chapel Hill and my sister-in-law was still here. We would come visit a great community and they talked about how much they loved it.
"The first time I came, coach (Jerry) Wainwright was the coach. Success was here. Coach (Brad) Brownell took it over and I've always followed it since then… I couldn't find a reason not to like it."
The familiarity with Wilmington made accepting the job a much easier sell to McGrath's wife, Kris, and his three children — twin daughters, Kate and Addison, and Hunter — all of whom offered their encouragement.
When it came to interviewing with Bass, McGrath wasn't shy about his desire to get the job. He had expressed interest in each of the last two head coaching searches that produced Buzz Peterson and Kevin Keatts, respectively, but never received the call he wanted.
That changed last Thursday while he was preparing for the Final Four in Phoenix. His phone rang, and when he answered he heard Bass and UNCW officials on the other end of the line.
"I was sitting in the locker room for a media session when I saw my phone ring," he said. "When I first answered I was like, 'Uh-oh, this is gonna be the bad call,' but then I felt pretty good once he said he had all the people with him."
The deal McGrath signed with UNCW, made official Monday by the school's Board of Trustees, was for five years and $1.5 million. He will make a base salary of $300,000 with the possibility of $100,000 in additional, supplemental income in each of the following seasons.
Former UNCW head coach Kevin Keatts, now of North Carolina State, knew McGrath when the former was the head coach at Hargrave Military Academy in Virginia. McGrath, as coach of the UNC junior varsity team, coached against Keatts during that time.
McGrath, having known Keatts for a long time, contacted the Wolfpack's head coach to ask questions about UNCW.
"He was, obviously, very helpful," McGrath said. "Kevin's a great guy, he's terrific."
The new recruiting period for basketball started Thursday. McGrath, one of UNC's most prolific recruiters, said he would begin contacting recruits immediately in order to regain some ground in the 2017 signing class.
Sports Editor Noah Thomas can be found on Twitter at @iNoahT. Tips or suggestions should be forwarded via email to [email protected]