UNCW baseball keeps winning after Maryland fails to rally late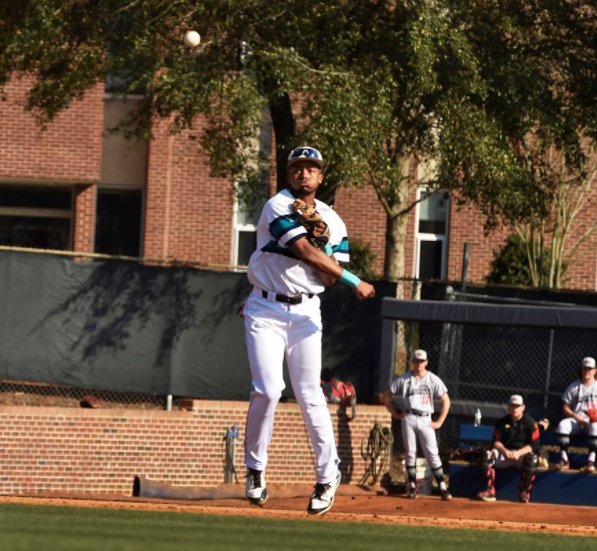 Hang on for a minute...we're trying to find some more stories you might like.
It did not take long for UNC Wilmington to build a multi-run lead against Maryland. In fact, it began as soon as CAA Player of the Week Casey Golden stepped in the box in the bottom of the first inning.
UNCW (9-9) extended its winning streak to five games with a 10-7 win over the Terrapins (12-7) on Tuesday afternoon. The Seahawks have scored 46 runs over that stretch.
Golden both started and ended the first inning when the Seahawks batted around and put five runs on the Brooks Field scoreboard. Maryland pitcher Mike Rescingo allowed the first six batters to reach base in his first career start.
"Casey got us going early and everyone chipped in the first three innings," said UNCW coach Mark Scalf. "We had room to play and we knew Maryland was going to compete from the first pitch to the last."
Everything went right and then some for the Seahawks.
Golden struck out with runners on base in the third inning, but advanced to first when the pitch got away from Maryland catcher Dan Maynard. The passed ball rolled away far enough for Robbie Thorburn to score. On the next pitch, Golden stole second.
When a talented team is playing with confidence, things like that tend to happen. It felt as if the Seahawks scored a run in every possible way they could in a game, save for a home run.
"It was definitely a weird offensive game, but that's our offense," said Golden. "We can score runs many different ways. We're going to take them however they come."
Freshmen Zarion Sharpe, making his first career start, pitched four innings and surrendered just one run. He pitched made it through three scoreless innings before allowing a solo home run in the fourth.
"Today I tried to set a tone, let the defense work behind me, and have fun," said Sharpe. "I wish I could've came out of the fourth without allowing the home run, but we got a win so that's all that matters."
An offensive rally courtesy of a pair of home runs by Maryland's Kevin Smith and a triple by junior Zach Jancarski trimmed UNCW's lead to three late in the game, but the eight-run advantage it built over the first three innings was too much to overcome.
"We kept our foot on the gas as much as we could. We're not going to coast," said Golden. "We're going to keep trying to attack."
Stat of the Night: Maryland pitcher Jamal Wade completed a rare four-strikeout inning in the bottom of the fifth. Wade struck out Kennard McDowell who reached first because of a wild pitch. Wade almost had a chance at a five-strikeout inning when Nick Feight struck out on a wild pitch, but first base was occupied.
Quote of the Night: "Zarion has done a tremendous job with his daily routine, throwing program, and routine on the mound. I thought he did a nice job staying with that tonight between pitches and trusted his ability." – UNCW coach Mark Scalf
Staff writer Brandon Sans can be found on Twitter at @Bsans10. Tips or suggestions should be sent via email to njt8879@uncw.edu.